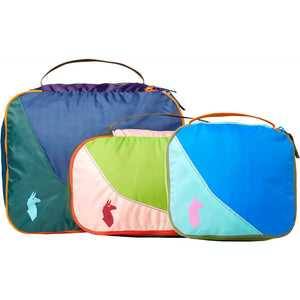 Cotopaxi Packing cube set of 3
Lightweight accessories, made using fabric left over from other companies' large production runs. This keeps perfectly good materials out of landfills, and into the hands of thoughtful adventurers. Each piece has a one-of-a-kind colorway.
Keep all of your essentials in order. Each cube has an easy-access wrap-around zipper, ventilated side mesh panels, and a grab handle.
2L=8 x 7.5 x 2in.
3L=12 x 7.5 x 2 in.
10L=13 x 10 x 6 in.
Style #PCU-S20-DD
---
We Also Recommend